About
We offer the casual cyclist the chance to rent a bicycle and enjoy a gentle, relaxing ride along Cape Town's Atlantic Seaboard. Just arrive at any of our stations to grab your bike and go.
Routes:
From our station on the Sea Point Promenade you can easily ride along the coast and enjoy a day on the beach, or a meal or drink at one of the many bars and restaurants in the area.
You can pedal along the Promenade all the way to the shopping and dining mecca of the Waterfront, into the world class eco-hub at the Green Point Park and Cape Town stadium precinct, or you can explore the CBD.
Cape Town is flat and easy to cycle, so riders of all ages and fitness levels can ride our bikes.
Cycling is active mobility. It's good for your body and mind, and bikes are great for the environment.
We think a ride along our route is one of the Mother City's simple pleasures!
Our Bikes:
Our bikes offer a comfortable ride for men and women of all sizes.
We also have a selection of bikes for children, and child seats for toddlers under 18 kilograms.
Helmets and locks are included.
Locations
We have stations at:
The Pavilion on the Sea Point Promenade
Silo 5 the V&A Waterfront
Breakaway Café on the Waterkant Street Fan Walk, in the city centre
Camps Bay, at the Bay Hotel on the Victoria Road strip.
Click here to download a PDF of our route map.
Hours of operation
Our hours of operation change throughout the year, according to the time the sun goes down.
Last rides for the day always depart 30 minutes prior to sunset.
Please contact us for exact opening and closing times.
We are open seven days a week, 365 days a year (as long as it's not raining heavily!)
Bike Tours
Up Cycles is proud to partner with VoiceMap: Audio Walking Tours.
We have created a guided Sea Point Promenade cycle tour, which departs from the V&A Waterfront and concludes at our Sea Point Pavilion station.
Find out more at http://bit.ly/1KTqSaP, download the VoiceMap app, and explore our most popular route from our unique and personal perspective.
Rates and Specials
Rates
One hour: R60
Two hours: R90
Three hours: R120
Half day: R180
Full day until sunset: R220
Child seat: R50
Helmets and locks are included.
Specials Prices:
Birthday special: One hour for free on your birthday (proof of birth date required).
Pensioner special: 20% discount on all rides.
Loyalty 10 pack special: R375 for 10 hour long rides.
Ask about our special rate for large groups.
Contact
Phone: 076 135 2223 or 074 100 9161
Email: hello@upcycles.co.za
You can also follow us on social media:
Facebook
Twitter
Instagram
Special Events
Full Moon Rides
For groups of five or more riders, or for special occasions, we are open for full moon bookings.
Special prices may apply.
Birthday Rides
We enjoy facilitating group rides for birthdays.
The birthday boy or girl will ride for free, with our special group rate for friends and family.
A promenade bike ride is a fun and different way to celebrate getting older, and will make you feel like a child all over again!
Teambuilding
A group bike ride along the Promenade is the perfect team building exercise for a number of reasons.
It's affordable, convenient and easy to facilitate, and there are numerous coffee shops, restaurants and other places to stop along the way, where other team building exercises can take place.
TWITTER
Summertime wardrobe 😎 pic.twitter.com/hFwkVHav6A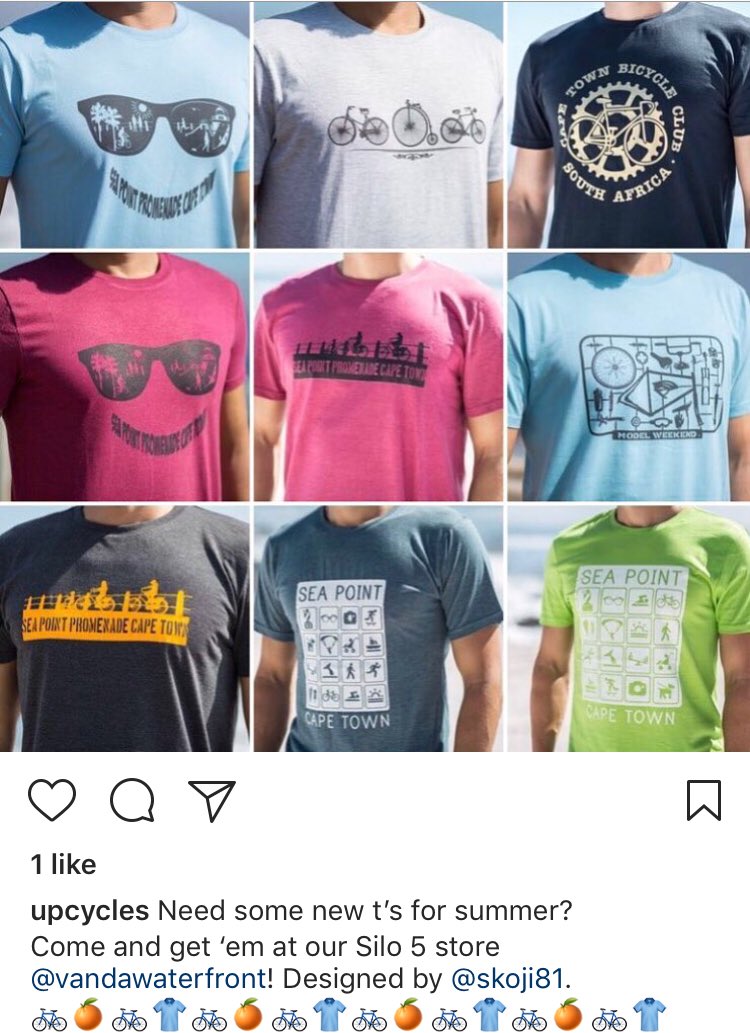 INSTAGRAM
Breakaway Cafe
Inspired by the lively bike life of Amsterdam, Breakaway Café is Up Cycles' downtown home base and café.
Here you will find a bright, healthy, energetic mix of all the things we love under one roof.
• Delicious, locally roasted craft coffee, with daily early-bird specials.
• Fresh fruit juices and smoothies with superfood ingredients
• Tasty light meals and snacks
• Free WiFi
Centrally located on the Fan Walk, Breakaway Café is found in a characterful, almost 100-year-old building, with a unique and thoughtful bicycle bric-à-brac decor.
Stop in to rent or return your Up Cycles bicycle, have your own bike serviced by our in-house mechanic, or simply stay a while to enjoy a break away from your daily routine.
Opening Hours
Mon-Fri: 06:00 - 17:00
Contact: 074 100 9161 or 074 081 6978
50 Waterkant St, Cape Town, 8001